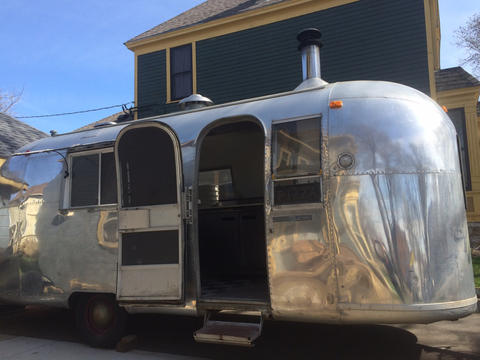 My pizza and bread baking are now officially a business -- on wheels.
Fire on the Bluff pizzaworks is housed in a vintage 1967 Airstream trailer that has been expertly converted into a mobile kitchen complete with a wood fire oven (inside!).  Over the winter of 2014, Fire on the Bluff tested recipes -- all using dough made exclusively with flour from organic, pre-GMO, heritage wheat milled by Darrold and Marty at Sunrise Flour Mill in North Branch, MN -- and we're now bringing our pizzas (and breads) to you.
We have gigs lined up beginning in mid-April and plan to set up at farmers markets in Dayton's Bluff and wherever you might want us to be.
So, stay tuned to this site where we'll be posting details about what we offer along with a calendar of upcoming events. In the meantime, feel free to contact us via the form on the Connect page to let us know what you're looking for and we'll get back to you.